"Giran was just a job. Your father I killed for fun."

— "Terrible Tambourine"
Tambourine (タンバリン, Tanbarin) is a supporting antagonist who appears in the Dragon Ball manga, and the anime Dragon Ball. A Humanoid gargoyle-like mutated Namekian, and one of King Piccolo's sons.
Appearance
Personality
Biography
Power
Techniques
Video games
Voice actors
Major Battles
Trivia
Gallery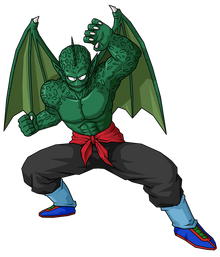 Ad blocker interference detected!
Wikia is a free-to-use site that makes money from advertising. We have a modified experience for viewers using ad blockers

Wikia is not accessible if you've made further modifications. Remove the custom ad blocker rule(s) and the page will load as expected.