"I was hoping to save it for a special occasion, it's the attack I planned to use to defeat you."

— Piccolo to Goku, preparing to use the Special Beam Cannon against Raditz, in "Piccolo's Plan"
Special Beam Cannon or accurately referred to as the Makankōsappō (魔貫光殺砲; lit. "Demonic Piercing Light Murder Gun") is an energy wave technique in the Dragon Ball series, and is one of Piccolo's signature attacks, along with the Explosive Demon Wave. The technique is a very powerful laser beam created by Piccolo in order to destroy his then-arch-enemy, Goku.
Overview
Usage
Variations
Appearances in games
Character meaning
Trivia
Gallery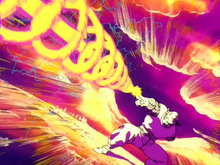 Ad blocker interference detected!
Wikia is a free-to-use site that makes money from advertising. We have a modified experience for viewers using ad blockers

Wikia is not accessible if you've made further modifications. Remove the custom ad blocker rule(s) and the page will load as expected.