Hinata Uzumaki (うずまきヒナタ, Uzumaki Hinata, née Hyūga (日向)) is the former heiress of Konohagakure's Hyūga clan. Because of her meek disposition, her father doubted that she was suited for the responsibilities of leading the clan, much less life as a ninja leading him to disinherit her. Nonetheless Hinata persevered and from observation of Naruto Uzumaki especially, Hinata found both an example to follow to be more assertive, and a person to love. Through her membership with Team 8, she sought to become strong enough to change herself, if even a little at a time.
Overview
Appearance 
Personality 
Biography
Background 
Part I
Prologue — Land of Waves
Chūnin Exams
Konoha Crush
Sasuke Recovery Mission
Bikōchū Search Mission
Academy Student Lead Mission
Gosunkugi Capture Mission
Buried Gold Excavation Mission
Peddlers Escort Mission
Lady Daimyō Search Mission
Sunagakure Support Mission
Interlude 
Part II
Tenchi Bridge Reconnaissance Mission
Akatsuki Suppression Mission
Three-Tails' Appearance
Blank Period
Epilogue 
In Other Media
Movies 
Naruto Shippūden the Movie
Naruto Shippūden the Movie: Bonds
Naruto Shippūden the Movie: The Will of Fire
Naruto the Movie: Blood Prison
Road to Ninja: Naruto the Movie
Video Games
Trivia 
Quotes 
Gallery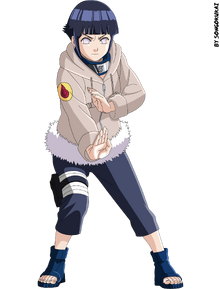 Ad blocker interference detected!
Wikia is a free-to-use site that makes money from advertising. We have a modified experience for viewers using ad blockers

Wikia is not accessible if you've made further modifications. Remove the custom ad blocker rule(s) and the page will load as expected.