Bonnie is an antagonist in Five Nights at Freddy's. Bonnie is an animatronic children's entertainer housed at Freddy Fazbear's Pizza, along with Freddy Fazbear and Chica. He is the guitarist in Freddy's band, positioned at the left side. At midnight, he is left in a "free-roaming mode" until 6 AM, to prevent his servos from locking up.
Along with the other animatronics, Bonnie will try to forcefully stuff any human he sees after hours into a Freddy Fazbear suit, resulting in death.
Appearance 
Edit
Strategy 
Edit
Locations 
Edit
Behavior 
Edit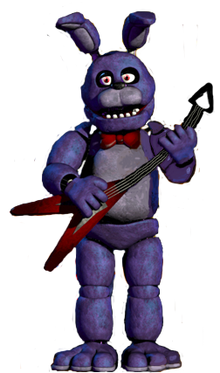 Ad blocker interference detected!
Wikia is a free-to-use site that makes money from advertising. We have a modified experience for viewers using ad blockers

Wikia is not accessible if you've made further modifications. Remove the custom ad blocker rule(s) and the page will load as expected.